Clean Water Act protects Bristol Bay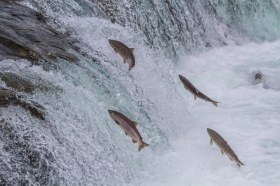 The Environmental Protection Agency (EPA) announced last week that it is initiating a process under the Clean Water Act (CWA) to identify appropriate options to protect the world's largest sockeye salmon fishery in Bristol Bay, Alaska, from the potentially destructive impacts of the proposed Pebble Mine!
The Pebble Mine has the potential to be one of the largest open-pit copper mines ever developed, and could threaten a salmon resource rare in its quality and productivity. During this process, the U.S. Army Corps of Engineers (the Corps) cannot approve a permit for the mine.
The EPA's recent assessment of the anticipated impacts of the Pebble Mine on the salmon populations in Bristol Bay have led to this action. Pivotal to the assessment was information made available to the EPA as part of the agency's Bristol Bay ecological risk assessment and mine plans submitted to the Securities and Exchange Commission. Dennis McLerran, EPA Administrator for EPA Region 10 sent letters to the Corps, the State of Alaska, and the Pebble Partnership initiating action under EPA's CWA Section 404(c) authorities.
"Bristol Bay is an extraordinary natural resource, home to some of the most abundant salmon producing rivers in the world. The area provides millions of dollars in jobs and food resources for Alaska Native Villages and commercial fishermen," McLerran said. "The science EPA reviewed paints a clear picture: Large-scale copper mining of the Pebble deposit would likely result in significant and irreversible harm to the salmon and the people and industries that rely on them."
In 2010, several Bristol Bay Alaska Native tribes requested that EPA take action under CWA Section 404(c) to protect the Bristol Bay watershed and salmon resources from development of the proposed Pebble Mine. In 2011, American Rivers, an American river conservation group, worked with the tribes to list the Bristol Bay rivers as one of America's Most Endangered Rivers.
The objective of the CWA is to restore and maintain the chemical, physical, and biological integrity of the nation's waters. The Act emphasizes protecting uses of the nation's waterways, including fishing. The CWA generally requires a permit under Section 404 from the Corps before any person places dredge or fill material into wetlands, lakes, and streams. Mining operations typically involve such activities and must obtain CWA Section 404 permits. Section 404 directs EPA to develop the environmental criteria the Corps uses to make permit decisions. It also authorizes EPA to prohibit or restrict fill activities if EPA determines such actions would have unacceptable adverse effects on fishery areas.
Read more at American Rivers.
Sockeye Salmon image via Shutterstock.