EPA and Army Corps of Engineers Release New Rule to Protect Waterways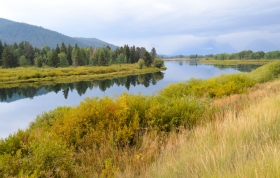 The Environmental Protection Agency and U.S. Army Corps of Engineers released a proposed rule this week to clarify which waterways are protected under the Clean Water Act.
Two Supreme Court decisions, one in 2001 and the other in 2006, made determining which waterways are protected under the CWA confusing and complex. The proposed rule doesn't expand waterways protected under the CWA, but only clarifies which ones are protected. Or as EPA head Gina McCarthy stated in an op-ed piece for the Huffington Post, "Our proposed rule will not add to or expand the scope of waters historically protected under the Clean Water Act."
About 60 percent of the stream miles in the U.S. only flow seasonally or after rain, and about 117 million people, one in three Americans, get drinking water from public systems that rely in part on those streams. The proposed rule would clarify that under the CWA most seasonal and rain-dependent streams are protected. It would also clarify that wetlands near rivers and streams are protected. Other waterways whose connections with downstream water are uncertain will be evaluated to determine whether the connection is significant. In addition, the proposed rule preserves the CWA exemptions and exclusions for agriculture.
To explain the proposed rule to the American people, the EPA released several videos. One of them is by McCarthy, who gave an overview on the rule. "The EPA is taking action to keep America's waterways clean and healthy," she said. The rule is "about protecting our natural resources" because "every sector of our economy depends on water." The other video is by EPA's Deputy Chief of Staff Arvin Ganesan who included an overview of the CWA. "The Clean Water Act worked. Our waterways were getting cleaner, but over the last 15 years a few complex court cases have tangled up these essential protections, making it unclear what waters are covered by the Clean Water Act," Ganesan said.
Continue reading at ENN affiliate, Triple Pundit.
River image via Shutterstock.