Hurricane Earl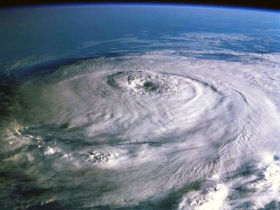 Hurricane Earl is still a powerful category four hurricane on the Saffir-Simpson Scale as it approaches the North Carolina coast September 2. NASA's Tropical Rainfall Measuring Mission satellite observed the high rates rain was falling within Earl in some areas more than 2 inches per hour.  Hurricane Earl became the most powerful hurricane of the 2010 Atlantic season early on September 2 when its sustained winds reached 120 kts (~138 mph). It was still intensifying when the TRMM satellite passed near its location on 2 September 2010. The TRMM Microwave Imager data were used in the rainfall analysis that showed heavy rainfall, particularly in the northwest quadrant of Earl's very distinct circular eye.
Depending on its location and strength, a tropical cyclone is referred to by many names such as hurricane, typhoon, tropical storm, cyclonic storm, tropical depression, and simply cyclone. In the Atlantic and Caribbean they are called hurricanes. Generally speaking, a tropical cyclone is referred to as a hurricane (from the name of the ancient Central American deity of wind, Huracan) in the Atlantic basin.The 2010 Atlantic hurricane season is the period in 2010 during which tropical cyclones will form in the Atlantic Ocean.
The season officially started on June 1 and will end on November 30, dates which conventionally delimit the period of each year when most tropical systems form in the basin. The season began with Hurricane Alex, a Category 2 storm on the Saffir–Simpson Hurricane Scale, which struck the Yucatán Peninsula as a tropical storm and northeastern Mexico south of the Texas border at peak intensity. Following Alex, a series of relatively weak systems occurred into the month of July and early August. In the latter part of August and early part of September, the season became much more active with the formation of four named storms in eleven days.
On May 27, 2010, NOAA released their forecast for the season, predicting an "extremely active" season (14 to 23 named storms, eight to fourteen hurricanes, and three to seven major hurricanes of Category 3 or higher). NOAA based its forecast on weaker wind shear, warmer temperatures in the region and the continuance of the "high activity era" which began in 1995.
Unmanned Global Hawk aircraft are making making fly overs of Hurricane Earl to gather data from 60,000 feet high and into the lower levels of the stratosphere. This data will help scientists learn about the rapid intensification of Earl, who went from a Category 2 to a Category 4 hurricane earlier this week.In addition astronauts aboard the International Space Station are also capturing Hurricane Earl on video and in photographs. These images complement the unmanned air craft view closer to Earth. In addition, NASA satellites, such as the Aqua satellite are capturing views of Earl. The Moderate Resolution Imaging Spectroradiometer instrument has been providing high-resolution views of Earl's clouds since it was born.
To see an image from Sept. 1 at 18:01 UTC (2:01 p.m. EDT) of Hurricane Earl as it was moving through the Bahamas, go to: http://rapidfire.sci.gsfc.nasa.gov/gallery/?2010244-0901/Earl.A2010244.1801/.
As of September 2, Hurricane warnings extend from North Carolina north to Massachusetts, including Cape Cod and the islands, with tropical storm warnings that include Virginia, eastern Maryland, New Jersey, New York, Connecticut and Rhode Island. Hurricane Earl's eye is expected to stay off-shore and eastern North Carolina and eastern Massachusetts have the strongest warnings.NASA satellite imagery indicates this is a large storm, with hurricane force winds extend outward up to 90 miles from the center.
For further information: http://www.eurekalert.org/pub_releases/2010-09/nsfc-nch090210.php