NASA Earthquake studies advance science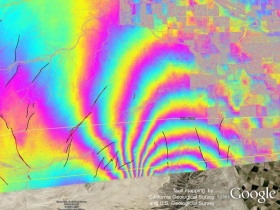 Major advances in earthquake analyses using new technologies developed by NASA and are revealing surprising insights into a major earthquake that rocked parts of the American Southwest and Mexico in April, including increased potential for more large earthquakes in Southern California.
At the fall meeting of the American Geophysical Union in San Francisco, scientists from NASA and other agencies presented the latest research on the magnitude 7.2 El Mayor-Cucapah earthquake, that region's largest in nearly 120 years. Scientists have studied the earthquake's effects in unprecedented detail using data from GPS, advanced simulation tools and new remote sensing and image analysis techniques, including airborne light detection and ranging (LiDAR), satellite synthetic aperture radar and NASA's airborne Uninhabited Aerial Vehicle Synthetic Aperture Radar (UAVSAR).
Among their findings:
- The earthquake is among the most complex ever documented along the Pacific/North American tectonic plate boundary. The main shock activated segments of  at least six faults, some unnamed or previously unrecognized.
- Mexico's Sierra Cucapah mountains were, surprisingly, lowered, not raised, by the earthquake.
- The main rupture jumped an 11-kilometer (7-mile) fault gap-more than twice that ever observed before.
- Forecasting methods in development suggest earthquakes triggered by the main shock changed hazard patterns, while experimental virtual reality scenarios show a substantial chance of a damaging earthquake north of Baja within three to 30 years of a Baja quake like the one in April.
UAVSAR image, shows the time period from October 21, 2009 to April 13, 2010, colors show ground deformation that is largely a result of the April 4, 2010 earthquake in Baja California. Black lines indicate interpreted faults, and red lines show where surface rupture was confirmed by geologists in the field.

Image credit: NASA JPL/USGS/California Geological Survey/Google
For more information: http://www.jpl.nasa.gov/news/news.cfm?release=2010-421&rn=news.xml&rst=2851