Smart Grids for Traffic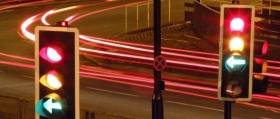 EZpass and signs announcing traffic patterns: that's just a start on what we could be doing. "Every year there are 40,000 to 50,000 fatalities on the roads. We've gotten used to it, and think it's part of what we do and how we live. But we could prevent that", says Sajjad Alam of Parson's Transportation division. Patrick McGowan, President of Telvent North America added, "We look at out of the box solutions" to optimize traffic flow and facilitate movement of emergency vehicles.
Click on magazine to read below. (See further information).
For further information: http://www.thegreeneconomy.com/smart-grids-for-traffic/