Flying the Friendly Skies — With the Power of the Sun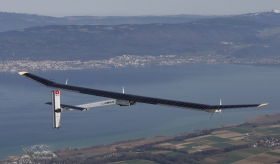 Another milestone for solar-charged travel was eclipsed last week when the solar-powered plane "Solar Impulse" landed in Morocco on June 5, 2012.
The plane took off from Madrid and landed safely in Morocco after an amazing 19-hour flight over the Straight of Gibraltar.
The plane required 12,000 solar cells to stay aloft at its cruising speed of 44 MPH. While its airspeed is nearly 10 times slower than most traditional commercial aircraft, the plane continues to prove its advanced technological ability.
Morocco was a fitting, and likely symbolic, destination as the kingdom is in the process of building a vast network of solar and wind farms which will provide 15% of Europe's electricity supply by the year 2050.
This is the second major milestone in solar-powered travel over the past several months. In May 2012, the Tûranor PlanetSolar—a catamaran that runs solely on solar energy — found safe harbor in Monaco after a 32,000 mile journey around the world.
Article continues at ENN Affiliate, Clean Techies
Image credit: Solar Impulse