Offshore wind powers ahead as prices drop 30% below nuclear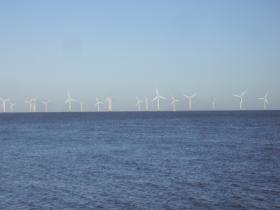 The cost of offshore wind power in the North Sea is 30% lower than that of new nuclear, writes Kieran Cooke - helped along by low oil and steel prices, reduced maintenance and mass production. By 2030 the sector is expected to supply 7% of Europe's electricity. Output from the Dogger Bank project will be 1.2 GW (gigawatts) - enough to power more than a million homes. Next year, a 150-turbine wind farm off the coast of the Netherlands is due to start operating, and other schemes along the Dutch coast are in the works. Denmark, Sweden and Portugal are major investors in offshore wind, and China has ambitious plans for the sector. Wind farms - both onshore and offshore - are a key ingredient in renewable energy policy, and an important element in the battle against climate change. WindEurope, an offshore wind industry group, says that at the present rate of installations it's likely Europe will be producing about 7% of its electricity from offshore wind by 2030.
Offshore wind developers benefit from falling costs
By some calculations, all this building work would seem to make little economic sense. Fossil fuel prices are low on the world market, and constructing offshore wind farms several kilometres out at sea, in often treacherous conditions, has traditionally been an expensive business.
Despite this, the offshore wind industry insists it has a bright future: costs are coming down, and supporters say the sector is becoming ever more competitive. Ironically, the slump in the price of oil has been one factor driving down the price of offshore power.
Inactivity in the oil industry and the closure of many drilling projects in the North Sea and elsewhere has led to a big surplus of offshore installation vessels. As a result, costs for transporting turbines out to sea and other support work have dropped substantially.
Read more: The Ecologist
Image: Dogger Bank offshore wind farm planned for the North Sea
Credits: freedigitalphotos.net