Canadian Archaeologists Challenge the Credibility of GIS Methods to Assess the Impact of Weather on Shoreline Erosion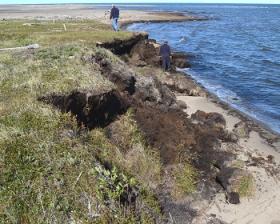 Although computer models of archaeological sites are commonly used to yield insights which contribute to the protection of heritage materials, scientists often question their credibility, calling for these long-term trends be 'ground truthed' in order to ensure that calculated rates of change reflect observed phenomena 'in the field'. This is particularly true in areas which tend to experience more pronounced and cumulative impacts of modern climate change.
A recent study by Michael J. E. O'Rourke from the University of Toronto, published in Open Archaeology, provides a new perspective on the severe impacts of escalating climate change on the heritage resources of Canadian Arctic. Referring to the application of Geographic Information System (GIS) analytical methods in assessing the threat of shoreline erosion to archaeological sites in the Canadian Arctic, it details steps taken to review the quality of the GIS model in light of a discrepancy with rates observed during annual survey visits.
SO HOW RELIABLE ARE GIS COMPUTER MODELS REALLY?
Using GIS methods to compile shoreline positions from archival aerial photography helps indicate valuable long-term trends when assessing shoreline erosion in the vicinity of archaeological sites. The author observed, however, that single episodes of extreme erosion resulting from increasingly volatile weather patterns in recent years have a serious impact on the reliability of shoreline erosion models, suggesting the use of more current imagery sources procured over shorter time intervals.
In this case, researchers produced a historical model of shoreline erosion for the Kugmallit Bay area, located along the Beaufort Sea coast in the Canadian Northwest Territories and processed the photography using ESRI's ArcGIS software and the U.S. Geological Survey's Digital Shoreline Analysis System. To assess the accuracy of this model they conducted two field surveys in 2013 and 2014 and found that the model significantly played down the change rates in the vicinity of Imnaaluk. Only then, the model was reviewed for errors and revised using recent satellite imagery secured through a DigitalGlobe Foundation Imagery Grant. Finally, they accounted for weather and sea-level records to determine the possible cause of the observed discrepancy.
Continue reading at De Gruyter
Image: Monitoring shoreline erosion at Imnaaluk (Toker Point), NWT, Canada
Image via De Gruyter