Scientists make biodegradable microbeads from cellulose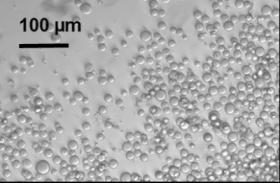 Scientists and engineers from the University of Bath have developed biodegradable cellulose microbeads from a sustainable source that could potentially replace harmful plastic ones that contribute to ocean pollution.
Microbeads are little spheres of plastic less than 0.5 mm in size that are added to personal care and cleaning products including cosmetics, sunscreens and fillers to give them a smooth texture. However they are too small to be removed by sewage filtration systems and so end up in rivers and oceans, where they are ingested by birds, fish and other marine life.
It is estimated that a single shower can result in 100,000 plastic particles entering the ocean, contributing to the eight million tonnes of plastic that enters the ocean every year. It is feared that the particles could enter the food chain, harming wildlife but also potentially ending up in our food.
As a result of recent campaigning by environmental groups, the UK Government has pledged to ban plastic microbeads in 2017.
Now a research team, from the University's Centre for Sustainable Chemical Technologies (CSCT), has developed a way of producing a biodegradable renewable alternative to plastic microbeads in a scalable, continuous manufacturing process.
Continue reading at University of Bath
Image: Microscope picture of cellulose microbeads (Credits: University of Bath)