NASA Analyzes US Midwest Heavy Rainfall, Severe Storms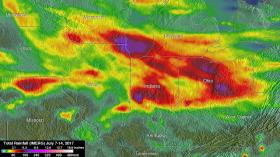 Heavy rain resulted in significant flooding in the U.S. Midwest over the week of July 7 to 14, 2017. Using satellite data, NASA estimated the amount of rain that fell over those areas and used satellite data to create 3-D imagery of severe storms.
NASA's Integrated Multi-satellite Retrievals for GPM (IMERG) data were used to show estimates of rainfall accumulation in the Midwest during the period from July 7 to 14, 2017. The analysis was conducted at NASA's Goddard Space Flight Center in Greenbelt, Maryland, and indicates that parts of Wisconsin, Illinois, Indiana and Ohio had the highest rainfall totals during the period with more than 6 inches (152.4 mm) of rain being seen in many areas.
On July 9, 10 and 11, severe thunderstorms spawned tornadoes in the Midwest. The Global Precipitation Measurement mission, or GPM, core observatory satellite flew above the area when tornadoes were being sighted in northeastern Indiana and northwestern Ohio storms on July 10 at 9:01 p.m. EDT (July 11 at 0101 UTC). One of those tornadoes was spotted in Huntington County, Indiana, at almost the same time that the satellite was scanning that area. GPM is a joint mission between NASA and the Japan Aerospace Exploration Agency.
Read more at National Aeronautics and Space Administration (NASA)
Image: This NASA IMERG rainfall calculation from July 7 to 14, 2017, shows the highest rainfall totals occurred in parts of Wisconsin, Illinois, Indiana and Ohio with more than 6 inches (152.4 mm) of rain being seen in many areas. Credits: NASA / JAXA, Hal Pierce