NASA Analyzed Intensifying Franklin's Rains Before Landfall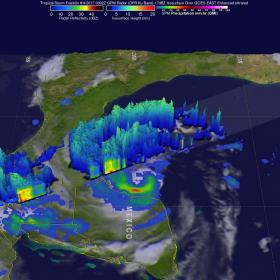 Before Tropical Storm Franklin made landfall in east-central Mexico, the storm was intensifying. Two NASA satellites provided a look at the storm's cloud heights and extent and rainfall within.
The Global Precipitation Measurement mission or GPM core observatory satellite had an informative pass over Tropical Storm Franklin on August 9, 2017 at 0302 UTC (Aug. 8 at 11:02 p.m. EDT). At that time, the intensifying tropical storm had moved from Mexico's Yucatan Peninsula into the southwestern Gulf of Mexico's Bay of Campeche.
Two of the instruments aboard GPM, the GPM's Microwave Imager (GMI) and Dual-Frequency Precipitation Radar (DPR) data, showed that Franklin contained a few heavy bands of convective rainfall. GPM's DPR found rain falling at a rate of over rain 2.4 inches (62 mm) per hour in bands of intense storms moving around the southwestern side of the storm.
Read more at NASA/Goddard Space Flight Center
Image: GPM looked at powerful storms in bands southwest of the storm's center and found cloud tops above 9.4 miles (15.2 km) high where rain was falling at a rate of over 2.4 inches (62 mm) per hour. (Credit: NASA/JAXA, Hal Pierce)