Water Conservation Can Have Unintended Consequences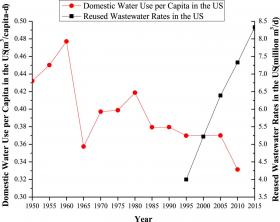 Conventional wisdom dictates water conservation can only benefit communities affected by drought. But researchers at the University of California, Riverside have deduced that indoor residential conservation can have unintended consequences in places where systems of wastewater reuse have already been implemented, diminishing both the quantity and quality of influent available for treatment.
The researchers outlined their findings in a recent paper, which appears online in the journal Water Research, published by the International Water Association.
"Drought, and the conservation strategies that are often enacted in response to it, both likely limit the role reuse may play in improving local water supply reliability," wrote Quynh K. Tran, a UCR Ph.D. student in chemical and environmental engineering; David Jassby, associate professor of chemical and environmental engineering; and Kurt Schwabe, professor of environmental economics and policy.
In the past, recycled water was only applied to areas such as low-value crops and median strips, Schwabe said. Recently, however, it has been considered safe to drink provided it either undergoes multiple rounds of treatment to remove concentrations of salts, nutrients, and other contaminants, or is injected into the ground and pumped back out later.
Read more at University of California, Riverside
Image: As domestic water use has fallen, rates of wastewater reuse have risen; the United States now reuses between 10 percent and 15 percent of its wastewater. (Credit: Tran, Jassby, and Schwabe)