NASA Tracking Hurricane Maria on Bahamas Approach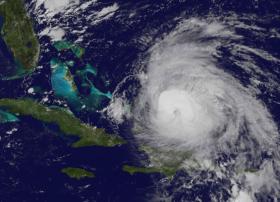 NASA-NOAA's Suomi NPP satellite provided a look at Maria's temperatures to find the strongest sides of the storm, while NOAA's GOES satellite revealed the extent of the storm in a visible image as it moved toward the Bahamas.
On Sept. 22 at 3:18 a.m. EDT (0718 UTC) the VIIRS instrument aboard NASA-NOAA's Suomi NPP satellite provided a thermal image of Hurricane Maria north of Hispaniola and nearing the Bahamas. The image showed highest coldest clouds around the eyewall and in bands of thunderstorms to the northeast and south and southeast of the center, stretching over Hispaniola and Puerto Rico. Those clouder clouds have the capability of producing heavy rainfall.
At 5:04 a.m. AST/EDT the National Weather Service (NWS) in San Juan, Puerto Rico reported those bands of thunderstorms were still dropping heavy rain. Satellite estimates indicate heavy rain over eastern Puerto Rico and heavier rain about to move into western Puerto Rico. The heavy rain will cause flooding. NWS noted "Some locations that are or will experience flooding include San Juan, Ponce, Arecibo, Yauco, Fajardo, Guayama, Coamo, Jayuya, Adjuntas, Santa Isabel, Canovanas, Sabana Seca, San Sebastian, Naranjito, Humacao, Mayaguez, San German, Lajas, Hatillo and Penuelas." Flood warnings are in effect until 5:45 p.m. EDT today, Friday, September 22, 2017. In hilly terrain there are hundreds of low water crossings which are potentially dangerous in heavy rain.
Read more at NASA/Goddard Space Flight Center
Image: This visible image of Hurricane Maria was taken from NOAA's GOES East satellite on Sept. 22 at 10 a.m. EDT (1400 UTC) as it was nearing the Bahamas. (Credit: NASA/NOAA GOES Project)