Study finds any activity—from workouts to housework—is good for the heart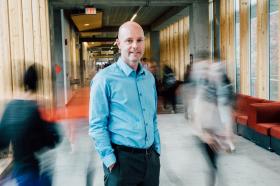 An international team of scientists, led by SFU health sciences professor Scott Lear, has found that physical activity of any kind—from gym workouts to housecleaning —can help prevent heart disease and even death.
Lear, who holds the Pfizer/Heart & Stroke Foundation Chair in Cardiovascular Prevention Research at St. Paul's Hospital, is the principal investigator of the Prospective Urban Rural Epidemiology (PURE) study, which involved more than 130,000 people from 17 countries. The study, published in The Lancet, was carried out by the Population Health Research Institute at McMaster University and Hamilton Health Sciences.
Lear's team demonstrated that any activity is good for people in raising their heart rates to meet the activity guideline of 30 minutes a day or 150 minutes a week. Researchers found that by meeting these guidelines the risk of death from any cause was reduced by 28 per cent, while heart disease was reduced by 20 per cent, regardless of the type of physical activity.
Continue reading at Simon Fraser University.
Photo via Simon Fraser University.