New Report on Channel Bed Erosion Helps Assess Bridge Stability in St. Louis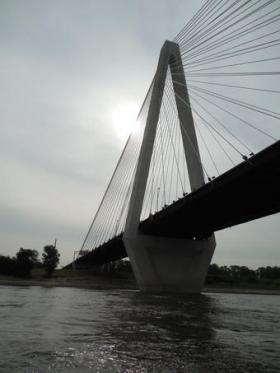 A new assessment of channel bed erosion near 13 highway bridges in the greater St. Louis, Missouri, area is now available in an online report from the U.S. Geological Survey, produced in cooperation with the Missouri Department of Transportation.
This information is used by the MoDOT to help assess bridges for stability and integrity with respect to scour, or the erosion of channel bed material caused by flowing water. Scour can worsen during flood events and is the leading cause of bridge failures in the United States.
"The Missouri Department of Transportation is pleased that the USGS has partnered with us in our bathymetric survey program since 2010," said Scott Stotlemeyer, Assistant State Bridge Engineer at MoDOT. "This program provides stream bed and flow data at all 40 of the state's Missouri and Mississippi River bridge crossings over a four-year cycle. Such data helps us identify any scour concerns in the vicinity of the bridge piers and to ensure the vitality of our highway infrastructure."
Continue reading at USGS.
Photo via USGS.