Toward efficient high-pressure desalination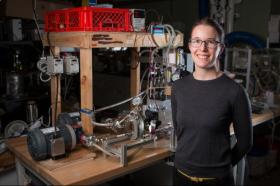 The desalination industry, a critical source of potable water in many arid regions, generated more than $13 billion last year and is expected to double within a decade. Most desalination plants today use a process called reverse osmosis (RO), which forces water through huge rolls of membranes, leaving the salt behind. One of the most expensive operational challenges for such plants is the fouling of these membranes by microorganisms.
Now, research from MIT suggests a different approach to reducing the rate of fouling and thus improving the efficiency of RO plants.
The prevailing idea in the industry has been that the high pressure required by RO is responsible for the relatively high rate of fouling, compared to other systems such as forward osmosis. But the MIT study shows that this is not the case, a finding that opens up new approaches to reducing fouling in RO. The research, by Emily Tow '12, SM '14, PhD '17 and MIT Professor John H. Lienhard V, was recently published in the Journal of Membrane Science and presented at the 2017 AMTA/AWWA Membrane Technology Conference, where it received the Student Best Paper Award.
Read more at Massachusetts Institute of Technology (MIT)
Photo: Emily Tow PhD '17, displays equipment she developed to measure the effects of different pressure levels on the way microorganisms build up on membranes used for desalinating water.
Photo Credit: Courtesy of the researchers