Extreme weather puts focus on climate change adaptation for buildings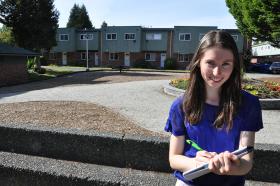 Forest fires in British Columbia. Floods in Quebec. Hurricanes in Texas. While it's difficult to say definitively that such events are caused by climate change, there's little doubt that a warming world exacerbates such extreme weather—and that our society will need to be ready for more of them.
These are the kinds of issues on Anika Bell's mind as she prepares to pursue her master's of applied science at the University of Victoria in the new year. Bell's previous research was featured in an infographic at the Livable Cities Forum in Victoria in September, where planners, policymakers and other professionals across Canada discussed ways to build cities equipped for current and future climate change impacts.
"Human influence on the climate system contributes to the frequency and severity of extreme weather," said Bell, a former mechanical engineering intern with the Pacific Institute for Climate Solutions (PICS) at UVic. "My research sought to find practical ways for public-sector building owners and managers, policymakers, and even homeowners, to prepare for, withstand, and recover from climate variability."
Climate change affects the trends in temperature and precipitation that many regions in BC are already seeing and will see more of in the future: higher annual mean temperatures; increases in winter precipitation; drier summers. Such shifts can result in uncomfortably warm building interiors, and in some cases increase the risk of winter flooding and summer droughts. These changes must be factored into building design to reduce risks to infrastructure and to people's health and well-being, climate experts say.
Continue reading at University of Victoria.
Photo via University of Victoria.