First Coast-To-Coast Land Motion Map of Scotland Derived from Satellite Radar Images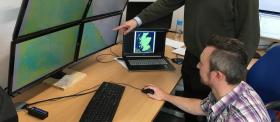 The first country-wide map of relative land motion has been created by a team at the University of Nottingham.
Using hundreds of satellite radar images the team, working with Geomatic Ventures Limited (GVL), an innovative University spin-out company, created a complete map of mainland Scotland.
The map covers a two-year period from 2015 to 2017 and was created using Intermittent Small Baseline (ISBAS) analysis, a novel satellite remote sensing technique. It showed that small but significant rates of land motion are occurring across almost the entire landscape. Rural areas are marked by subsidence over peatlands and landslides on steep slopes. In contrast, the urban and industrialised areas of the Scottish Midlands clearly show the effects of historical coal mining and civil engineering.
Read more at University of Nottingham
Image: This photo show Dr. Stephen Grebby of the University of Nottingham (seated) and Dr. Andy Sowter of GVL (standing) discussing the relative land motion map of Scotland (Credit: University of Nottingham)