NASA's IMERG Adds Up Heavy Rainfall from Tropical Storm Damrey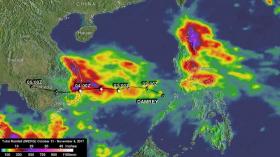 Using a fleet of satellites, NASA calculated the heavy rainfall in Vietnam left by Typhoon Damrey at the beginning of November.
Typhoon Damrey originated as a tropical depression over the Philippines on October 31, 2017. Damrey intensified while moving westward over the South China Sea and became a typhoon on November 3, 2017. Typhoon Damrey hit Vietnam's south central coast the next day with sustained winds of about 75 knots (~86 mph).
Torrential rainfall led to deadly flooding. As much as 580 mm (22.8 inches) of rain was reported near the coast well north of where typhoon Damrey came ashore.
The Vietnamese government reported that Damrey was responsible for 89 deaths.
Read more at NASA/Goddard Space Flight Center
Image: NASA's IMERG calculated rainfall from Typhoon Damrey from October 31 to Nov. 6, 2017 and estimated that more than 500 mm (19.7 inches) of rain fell in parts of south central Vietnam. Rainfall totals decreased as Damrey moved westward and dissipated over Cambodia. (Credits: NASA/JAXA, Hal Pierce)