NASA Sees the End of Tropical Depression 29W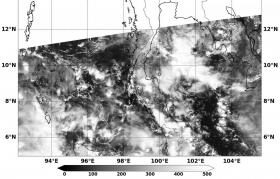 Born from the remnants of Tropical Cyclone 28W, Tropical Depression 29W only lasted a few days before it began rapidly decaying. NASA-NOAA's Suomi NPP satellite found the disorganized storm weakening over the Malay Peninsula.
The NASA-NOAA Suomi NPP satellite passed over Tropical Depression 29W on Nov. 8 at 1:48 a.m. EST (0648 UTC) and found a very poorly organized low-level center near the Malay Peninsula.
The Visible Infrared Imaging Radiometer Suite or VIIRS instrument aboard the Suomi NPP satellite captured a visible image 29W and the storm appeared almost shapeless.
Read more at NASA/Goddard Space Flight Center
Image: The NASA-NOAA Suomi NPP satellite passed over Tropical Depression 29W on Nov. 8 at 1:48 a.m. EST (0648 UTC) and found a very poorly organized low-level center near the Malay Peninsula. (Credits: NRL/NASA)