New Antarctic heat map reveals sub-ice hotspots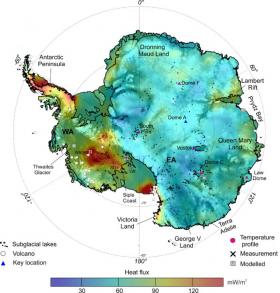 An international team of scientists, led by British Antarctic Survey (BAS), has produced a new map showing how much heat from the Earth's interior is reaching the base of the Antarctic Ice Sheet. The map is published this week (Monday 13 November) in the journal Geophysical Research Letters.
The team has produced the most up to date, accurate and high-resolution map of the so called 'geothermal heat flux' at the base of the Antarctic Ice Sheet. Of the basic information that shapes and controls ice flow, the most poorly known about is this heat.
The data used come from magnetic measurements mainly collected by aircraft flying over the continent and the results reveal the 'hot spots' under West Antarctica and on the Antarctic Peninsula, the most rapidly changing areas of the Antarctic Ice Sheet.
Continue reading at British Antarctic Survey
Image: The most high-resolution map of the geothermal heat beneath the Antarctic Ice Sheet
(Credit: Heat flux distribution of Antarctica unveiled by Yasmina M. Martos, Manuel Catalan, Tom A Jordan, Alexander Golynsky, Dmitry Golynsky, Graeme Eagles, and David Vaughan)