Removable Implant May Control Type 1 Diabetes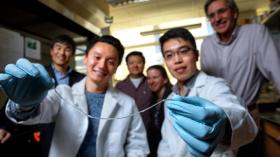 For the more than 1 million Americans who live with type 1 diabetes, daily insulin injections are literally a matter of life and death. And while there is no cure, a Cornell-led research team has developed a device that could revolutionize management of the disease.
In Type 1 diabetes, insulin-producing pancreatic cell clusters (islets) are destroyed by the body's immune system. The research group, led by assistant professor Minglin Ma from the Department of Biological and Environmental Engineering in the College of Agriculture and Life Sciences, has devised an ingenious method for implanting hundreds of thousands of islet cells into a patient. They are protected by a thin hydrogel coating and, more importantly, the coated cells are attached to a polymer thread and can be removed or replaced easily when they have outlived their usefulness.
Doctoral students Duo An and Alan Chiu are co-lead authors of the group's paper, "Designing a Retrievable and Scalable Cell Encapsulation Device for Potential Treatment of Type 1 Diabetes," published Dec. 25 in Proceedings of the National Academy of Sciences.
An example of the "radical collaboration" concept that is a hallmark of Cornell research, this work also featured key contributions from: Dr. James Flanders from the College of Veterinary Medicine; professor Jintu Fan from the Department of Fiber Science & Apparel Design in the College of Human Ecology; and assistant professor Meredith Silberstein from the Department of Mechanical and Aerospace Engineering in the College of Engineering.
Read more at Cornell University
Image: Doctoral students Alan Chiu, left, and Duo An hold a sample of TRAFFIC (Thread-Reinforced Alginate Fiber for Islets enCapsulation). In the background, left to right, are Minglin Ma, Dan Luo, Meredith Silberstein and Dr. James Flanders. (Credit: Cornell University)