Surprise: A Virus-Like Protein Is Important for Cognition and Memory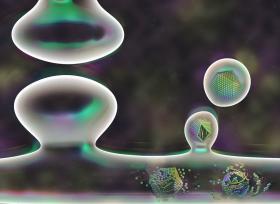 A protein involved in cognition and storing long-term memories looks and acts like a protein from viruses. The protein, called Arc, has properties similar to those that viruses use for infecting host cells, and originated from a chance evolutionary event that occurred hundreds of millions of years ago.
The prospect that virus-like proteins could be the basis for a novel form of cell-to-cell communication in the brain could change our understanding of how memories are made, according to Jason Shepherd, a neuroscientist at University of Utah Health and senior author of the study publishing in the journal Cell on Jan. 11.
Shepherd first suspected that something was different about Arc when his colleagues captured an image of the protein showing that Arc was assembling into large structures. With a shape that resembles a capsule from a lunar lander, these structures looked a lot like the retrovirus, HIV.
Read more at University of Utah Health
Image: A protein important for cognition and memory named Arc can encapsulate genetic material (polyhedron enveloping the ribbon-like strands) and deliver it to brain cells in a manner similar to the way in which viruses infect host cells.
CREDIT: Chris Manfre