Environmental Excellence in Racing? YES!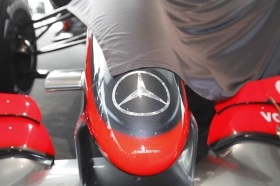 Vodafone McLaren Mercedes has become the world's first motor sport team to receive the FIA Institute's Environmental Award for the Achievement of Excellence.
The award is part of a broader initiative between the FIA and the FIA Institute aimed at evaluating and reducing the environmental impact of motor sport. It is also the highest level attainable within the FIA Institute Sustainability Programme, which helps motor sport stakeholders to measure, improve and be recognised for their environmental performance.
Underpinning the Sustainability Programme is an environmental accreditation scheme – the Environmental Certification Framework – the first to have been developed specifically for motor sport. It enables National Sporting Authorities, teams, circuits, manufacturers, and event organisers to achieve the highest standards in environmental management.
Organisations that sign up are rated against three levels of environmental performance, so measuring their achievement and providing a benchmark against which to improve.
Shortly after the scheme was announced, in June 2012, McLaren applied for accreditation and underwent a series of stringent assessments set out by FIA Institute environmental experts. The Formula One team achieved the highest level through demonstrating a commitment to continual improvement and impressive environmental awareness throughout the entire organisation.
FIA President, Jean Todt, said: "McLaren's award is an important step in the recognition by motor sport of the social responsibility our community must acknowledge if our championships are to remain in tune with the key environmental debates we are all a part of. The FIA and the FIA Institute are researching the environmental impact of motor sports across all our world championships."
Photo credit Mercedes Benz.
Read  more at ENN Affiliate ClickGreen.