Weighing the Benefits of Wind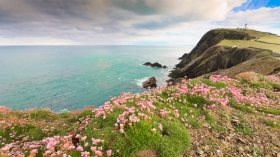 There's a new wind blowing across Europe. Windpower is predominantly located in Germany, Denmark and Spain, and a recent European Union report predicted wind will power Europe's demands several times over before 2020.
In September 2013 the 'Montreal Protocol' committed G20 countries to reducing the 'super Greenhouse Gases'- hydrofluorocarbons produced primarily from fossil fuels, and as part of this, alternatives to coal, natural gas and oil must be found, as a matter of urgency.
However even here dissent prevails - the recent International Energy Outlook Report predicted that globally, we will remain 80% dependant on fossil fuels until 2040, (with China and Asia increasing their consumptions considerably) and the results are cataclysmic.
Another report indicated that the British, like their European neighbours, significantly approve of windfarms within 2km of their homes, if the largest stakeholders are the community.
On Shetland, the wind farm has been stalled again, and the arguments playing out reflect in microcosm the concerns and debates that in some degree affect all communities considering windpower. This beautiful creative island- an archipelago in the North sea, 110 miles north of Scotland, 225 miles West of Norway is famous for its extraordinary wildlife, thrilling archaeology, dextrous musicians, honest funny artists and craftspeople that thrive in these extreme, moody windy islands.
Shetland is heavily dependent on oil, and prior to the arrival of the Sullem Voe terminal in 1975, (run by Total,) and the BP rig, Shetland relied on herring, whaling, the occasional (insignificant) bit of smuggling (knitted sweaters for hooch) and crofting. Villagers used the omniscient peat for heating, mortality rates were high, suicides amongst older men disproportionately high, and life was unromantically tough.
Indeed, as Mary Fraser, a Shetlander and a craftsperson who continues many of the island's trademark skills- knitting, crofting, weaving and embroidery- says "My granny brought up eight bairns in one room, left each summer to work the herring. She went down the coast, as far as Yarmouth, she was just a young lass. Herring work was really sociable, but it was a hard life. No doubt".
Since the arrival of oil and natural gas around Shetland in the seventies (all, poignantly, offshore), roads, schools, leisure centres have sprung up. Children get some of the best educations in Europe, free music lessons until a few years ago, and the fabulous Shetland Museum, archives and Mareel Arts Centre (both indirectly and partially funded by oil revenue) exist because of oil. The island, in short, is in hock to oil.
Read more at ENN affiliate The Ecologist.
Shetland Islands photo via Shutterstock.