No More Trick to the Wrapped Treat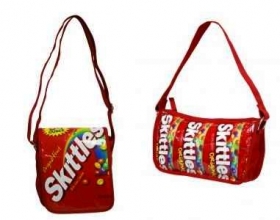 Halloween wouldn't be the same without a candy treat. Indeed we buy more candy at Halloween than we do for any other holiday. The National Confectioners Association estimates that consumers will spend $2.4 billion in candy this year for Halloween. The trick is that most of these candy wrappers will end up in a landfill.
The alternative is to seek out recycling alternatives but unfortunately they are more difficult to recycle than other consumer products. Many of today's candy wrappers are made with polypropylene, which is readily printed upon making for colorful and eye catching branding. Polypropylene is also easy to seal hermetically and it resists moisture. Other candy bars are wrapped in paper with foil or waxed papers.
These mixed mediums make it difficult to recycle candy wrappers but when one considers the shear volume of candy wrappers that $2.4 billion worth of candy produces the eco-conscious part of our brain gives a little guilty nudge.
Some of the most desirable characteristics of polypropylene also make it difficult to recycle and the mixed material nature of the other candy wrapper packaging becomes seemingly impractical. Further, because candy wrappers lack the volume and presence of other more traditional recyclables they fly under our waste management radar. There is another option though in the form of up cycling. Candy wrappers are now being made into baskets, boxes, handbags, wallets, backpacks and jewelry and other wearable items.
While the crafty person might opt to make his/her own, the more general populace is more likely to prefer to collect wrappers. Terracycle has made that easy with its candy wrapper-recycling program.
The candy wrapper-recycling program is available to charitable organizations throughout any of the continental United States through. Terracycle donates 2 cents per approved candy wrapper to the school or charity of your choice. Acceptable wrappers include fun, regular and family sized bags. Any brand is acceptable however candy boxes and gum packaging is not accepted.
Organizations are encouraged to promote a collection program before Halloween to alert people of the collection before wrappers start making their way into the trash. To be eligible for Terracycle points, an organization must have 9 pounds. Terracycle estimates that it takes approximately 1,000 wrappers to equal 9 lbs. Terracycle will pay for associated shipping costs.
So this year for Halloween no one should feel any ecological guilt with regard to consuming their favorite confectionary treat.
Read more at Terracycle.
Photo image via Terracycle.