Liquid air technology could boost the role of renewable energy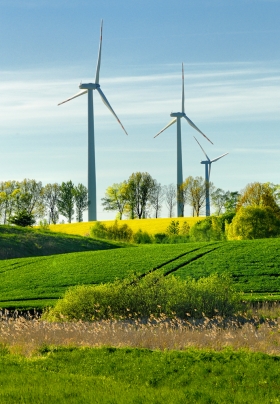 Liquid air technologies could help Britain tackle some of its toughest energy challenges, says a new report launched at Parliament today.
The report, "Liquid Air Technologies – a guide to the potential," shows how liquid air could help balance an electricity grid increasingly dominated by intermittent renewables; provide strategic energy storage to keep the lights on; sharply reduce CO2 and tail-pipe emissions from vehicles; and convert low grade waste heat into usable energy throughout the economy.
Published by the Center for Low Carbon Futures, Liquid Air Energy Network and University of Birmingham, the report explains how 'wrong time' renewable energy could be used to liquefy air as a means of storing energy, which could then be used to generate electricity when needed, and provide a convenient and low cost fuel for vehicles including buses and lorries.
A single gasometer-style tank of liquid air could make good the loss of 5GW of wind power for three hours - equivalent to almost 10% of the UK's peak electricity needs.
The range of potential applications is so wide that it could even be described as a 'liquid air economy'.
"While the idea of a 'liquid air economy' is no silver bullet," says Professor Richard, Pro-Vice Chancellor, University of Birmingham, "it does offer a unique combination of energy, environmental and economic benefits. What's more, since liquid air is based on existing components and supply chains, a liquid air economy could develop far sooner than some other approaches."
A number of UK technologies are in development and demonstration with significant Government support, including transport applications starting field trials next year. University of Birmingham earlier this year won a 6M pound grant from the Engineering and Physical Sciences Research Council (EPSRC) to open a dedicated research facility, the Centre for Cryogenic Energy Storage (BCCES) – a world-leading center for research into the liquid air economy and technologies.
Gisela Stuart, MP for Birmingham Edgbaston, welcomed the report at today's Birmingham in Parliament day. She said "I am very excited to have the Birmingham Centre for Cryogenic Energy Storage exhibiting today in Parliament; this first of its kind center is another example of Birmingham leading the way in innovation. The center will be a hotbed of new ideas, including liquid air technology."
Read more from our affiliate ClickGreen.
Wind turbine imagevia Shutterstock.