Good News for African Elephants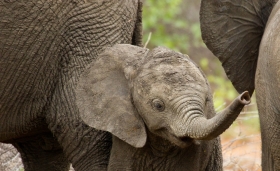 Representatives from 30 countries came together to discuss the poaching crisis and potential measures to save Africa's elephants at the African Elephant Summit. As the summit convened, new numbers were released by the Convention in International Trade in Endangered Species (CITES), which found that if poaching continues at its current rate, Africa will likely see at least a fifth of its elephants disappear in the next ten years.
Heartbreaking stories of entire elephant families dying continue to make the news, while poachers continue to sink to ruthless new lows to take them out, including using cyanide to kill them. The level of horror caused by poachers was recently highlighted by a gut-wrenching recording from the Wildlife Conservation Society that accidentally captured the sounds of elephants being killed as they tried to escape from their killers.
According to the latest figures, an estimated 15,000 elephants were killed in 2012 at 42 sites across 27 African countries that are participating in the Monitoring the Illegal Killing of Elephants (MIKE) program, which is run by CITES. An analysis of those numbers led to the conclusion that an estimated 22,000 elephants were illegally killed throughout the continent last year. So far, this year doesn't look like it will be much better.
"With an estimated 22,000 African Elephants illegally killed in 2012, we continue to face a critical situation. Current elephant poaching in Africa remains far too high, and could soon lead to local extinctions if the present killing rates continue. The situation is particularly acute in Central Africa, where the estimated poaching rate is twice the continental average," said John E. Scanlon, CITES Secretary-General.
According to CITES, the 18 large-scale seizures have been conducted this year already represent the greatest quantity of ivory confiscated over the last 25 years for this type of seizure, but it's still unclear whether the seizures are the result of better law enforcement or an increase in trade that's being driven by poverty, corruption and high demand in Asia.
African Elephant calf photo via Shutterstock.
Read more at Care2.