Adorable Seal pups orphaned in England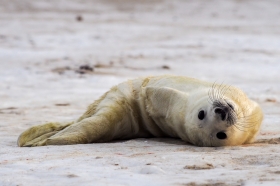 A record tidal surge that caused severe flooding and "war zone"-like damage in Norfolk, England has washed up and stranded 100 seal pups, many less than three weeks old. Staff at the the RSPCA's East Winch Wildlife Center says that each pup could require up to five months of rehabilitation.

Fortunately, many generous souls have responded to an appeal for funds to help care for the orphaned pups. So far, the center has received £25,000 (about $40,773) to help care for them.
Those funds are surely, and sorely, needed. According to the RSPCA, it costs £22 (about $36) a week to feed each seal. Until they lose their white fur, the pups cannot swim or survive without their mothers' milk.
Center workers have certainly never had to care for so many rescued young seals at a time. As center manager Alison Charles tells the Independent,
"If it wasn't for us, these seal pups would starve to death. This couldn't have happened at a worse time for the seals. We are at the height of the grey seal pupping season, which means most of these poor seals should still be dependent on their mother's milk."
National Trust rangers at Blakeney Point, which has one of the largest colonies with about 1,000 seals and pups, said that most have been able to make their way to higher ground on the sand dunes and had been accounted for after the storm. But center workers fear that dead pups at another sites, Horsey, had been more severely affected. Volunteers said they counted 440 pups on the beach before the tidal surge but only 177 afterwards.
Seal pup image via Shutterstock.
Read more and contribute to help the effort at Care2.