U.S. Public Transit Reports Record Ridership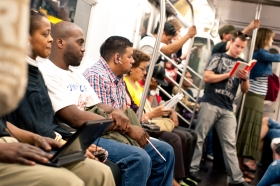 Don't tell the public transit naysayers who maintain that Americans will never get out of their beloved automobiles: Americans took a record 10.7 billion trips on public transportation last year – the highest annual ridership number in 57 years, according to the 2013 ridership report released by the American Public Transportation Association (APTA). In fact, public transit rides rose by 1.1 percent in 2013, while miles driven only increased 0.3 percent.
Why the record public transit ridership in 2013? Last year actually marked the eighth consecutive year that more than 10 billion trips were taken on public transportation systems, and the APTA says the 2013 figures were part of the increasing public demand for transit that has been growing since 1995.
"There is a fundamental shift going on in the way we move about our communities," APTA President and CEO Michael Melaniphy said in a statement. "People in record numbers are demanding more public transit services, and communities are benefiting with strong economic growth."
Public transit ridership, which has risen 37.2 percent since 1995, has outpaced both population growth, which has increased 20.3 percent, and vehicle miles traveled, up 22.7 percent.
Continue reading at ENN affiliate, Triple Pundit.
Commuter image via Shutterstock. Image credit: Pio3