Desalination is Now a Billion Dollar Industry, Report Shows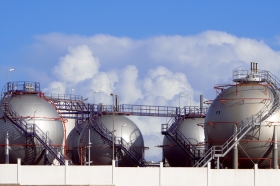 Despite some early March rain in California, and a few storm systems moving in this week, the late season moisture will sadly fall far short of that which is needed to pull the state out of its four-year drought. Attention has consequently turned towards how California will ensure reliable water supplies in years ahead, should precipitation levels remain below average.
One source that will grow in importance is desalination, and it could end up being a pretty big business. Environmental Leader reported earlier this month that the components alone for desalination activity will constitute a $5 billion industry by 2015, and while this spend would not be confined to California, the report, conducted by the McIlvaine Co., describes the state as being at the epicenter of global desalination activity.
According to SFGate, the San Francisco Chronicle's online news outlet, 17 desalination plants are in the planning stages in the state of California, and of these, the largest one in Carlsbad, near San Diego, is two years away from completion. When the plant is switched on, it will be the biggest desalination facility in the Western Hemisphere, taking water from the Pacific Ocean and turning it into around 50 million gallons of potable water daily — serving 110,000 customers in San Diego County.
To build such a plant, water treatment chemicals, pumps, valves and centrifuges are among the many components that will be required. The process of desalination for the Carlsbad plant involves "reverse osmosis," which entails forcing salty or brackish water through screens to filter out contaminants. The cross-flow membrane equipment involved in the filtration process, according to the McIlvaine Co., constitutes the most costly of all components, which alone constitutes a $3.06 billion market.
Read more from our affiliate, TriplePundit.
Desalination plant image via Shutterstock.