Is an Electric Car Right for You?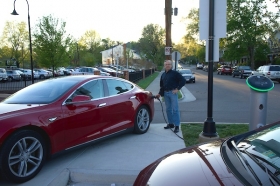 Operating a car without needing to visit a gas station is intriguing idea to many American drivers. After all, the pumps can be a painful place—gas prices have been on a roller coaster ride the past few years. But in the minds of many American, electric cars are nothing more than glorified golf cars incapable of providing adequate daily driving range or sufficient highway speed. In this new era of electrified transportation, those misconceptions need to be tossed aside.
Todays' electric vehicles, like the Nissan Leaf, provide all the creature comforts and capabilities of gasoline internal combustion cars. These EVs comfortably seat four or five passengers, offer quasi-luxury features, and serve up smooth, silent and sporty levels of acceleration. But there are a couple of important issues to consider—such as driving range and refueling times.
Are There Drawbacks To Consider?
Except for top-of-the line expensive models like the Tesla Model S, which offers 250 or more miles of range on a single charge, most of the new EVs commonly provide about 80 to 100 miles of travel after receiving a full charge.
Actually, the average distance traveled by commuters in the U.S. is about 30 miles. So EVs provide plenty of range for the most common routes. The limitation only becomes an issue for single-car families or those who regularly go on a road-trip of hundreds of miles. If you are a road warrior who takes long trips all the time—or have a daily commute of more than 60 or 70 miles—an electric car is probably not right for you.
For everybody else, an EV is a refreshing break from the petro-dominated past.
Photo credit ENN.
Read more at ENN Affiliate, CleanTechies.