Winds of Environmental Change in China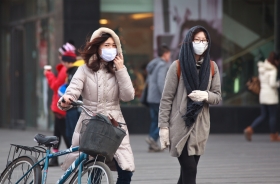 China's national legislature has adopted sweeping changes to the country's Environmental Protection Law, revisions that have been hailed as major steps toward saving China's environment from rampant degradation. The authorities will now have stronger enforcement powers, including the right to detain persistent violators for up to 15 days and to fine polluters more heavily than before. Some legally registered civil-society organizations will now be able to initiate public-interest litigation as well.
The law, approved late last month, solidifies the use of environmental targets to assess bureaucrats, who for too long have been measured primarily on economic performance. It also increases transparency by requiring major violators to disclose pollution data and local governments to release information on environmental quality and enforcement.
These changes offer hope to the hundreds of millions of people exposed to the extraordinary risks of China's severe air, water and soil pollution. We believe the new Environmental Protection Law is a signal from the government that it is taking the issue seriously. Moreover, it is a victory for the countless people in China who have worked for years for environmental change. Even a decade ago, most of the amendments to the law would have been unthinkable.
And yet the new law alone may end up doing little to end the impunity that polluters regularly enjoy. Only deep and fundamental changes in the organization of the party-state can bring down the extreme levels of pollution in China.
Environmental law enforcement has failed across the country largely because the regulatory agencies face conflicts of interest that limit their ability to do their jobs. Local governments provide most of the budgets for local environmental bureaus, but also maintain strong economic and political ties to the companies that pollute. Moreover, a significant part of local environmental regulatory budgets comes from pollution-discharge fees. Because these fees are based on the amount of pollution, this leads to the perverse result that reduced pollution can mean the loss of crucial environmental enforcement funds.
If systemic problems like these are not resolved, it is unlikely that the environmental authorities will avail themselves of the stronger enforcement powers granted to them by the new law. The introduction of more stringent environmental targets for local leaders is a step in the right direction, but it does not fully resolve the core conflict between environmental regulation and polluting industries.
Read more at the UCLA Newsroom.
Breathing bad air in China image via Shutterstock.