Oceanic litter is widespread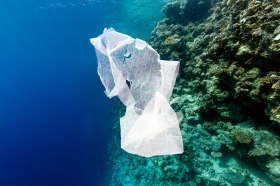 Litter is now found in even the most remote areas of the oceans, say scientists trying to understand how much rubbish is lying at the bottom of Europe's seas.
The new study, published in Plos One, shows for the first time that there seems to be no area of the ocean left untouched by human litter.
Using 588 video clips collected by unmanned submarine vehicles for geological mapping and marine biology studies, the team found that plastics waste like shopping bags is the most prevalent.
'We didn't focus on specific footage, it came from lots of different studies but we viewed it all. And the biggest surprise was that we found litter everywhere – everywhere we had footage from had been polluted,' says Christopher Pham, a PhD student at the University of Azores in Portugal and lead researcher on the project.
'The majority of what we found was plastic, specifically softer plastics like carrier bags, although we did find other things like pieces of buckets,' he continues. 'We found batteries, part of a plane, pieces of oil drum, shoes, chairs, plastic bottles, clothes, but mostly plastic.'
Research into the extent of marine litter has been done before, but this is the largest single survey to date. The study included 32 sites, which took in some of the deepest and most remote locations around Europe, including the Charlie-Gibbs Fracture Zone between the Azores and Iceland.
Plastic bag and coral reef image via Shutterstock.
Read more at Planet Earth Online.