Supreme Court and the Obama Administration's Climate Plans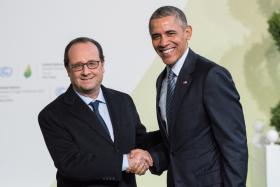 Two unexpected and shocking events have left heads swimming about the fate of President Obama's signature initiative on climate change, the Clean Power Plan, which aims to replace many coal-fired power plants — the largest source of greenhouse gas emissions in the United States — with cleaner sources of energy.

Last Tuesday, the U.S. Supreme Court issued a stay on the Clean Power Plan until the litigation against it is finally resolved, suspending implementation of the plan for the foreseeable future. The vote was 5-4, along the customary ideological lines, and it led to great concern, bordering on quiet despair, among proponents of the plan. who now believed that the Supreme Court would ultimately strike it down. Opponents of the plan, including the coal industry, rejoiced.

The court's order blocking Obama's Clean Power Plan provides an opportunity for the U.S. to show other nations it has a flexible approach to cutting emissions, David Victor writes.
Then last Saturday came news of the sudden passing of Justice Antonin Scalia, who in his 30 years on the Supreme Court had been its most forceful critic of the U.S. Environmental Protection Agency (EPA). Had his death occurred a few days days earlier, the court would have been tied on the question of the Clean Power Act, and no stay would have been issued. Recent history suggests that if a Democratic president ends up appointing Justice Scalia's successor, he or she will vote to uphold the Clean Power Plan and it will survive. If a Republican is elected later this year, the legal wrangling over the plan will become a moot point because all the Republican candidates have vowed to halt the Clean Power Plan anyway.

The Supreme Court's stay of the Clean Power Act — one of the most environmentally destructive actions the court has ever taken — has roots going back nearly a decade. In a 2007 ruling in Massachusetts v. EPA, the court declared that the Clean Air Act authorizes the EPA to regulate emissions of carbon dioxide and other planet-warming gases. Justice Scalia dissented. Virtually everyone on both sides of this issue agrees that the 1970 Clean Air Act is not the best way to tackle climate change, and President Obama pushed for an economy-wide cap-and-trade law. The House narrowly passed the Waxman-Markey bill in 2009, but it died in the Senate. Thus the EPA was relegated to using the Clean Air Act. In 2014, the Supreme Court upheld most of the EPA's initial actions in this direction, including greenhouse gas controls on motor vehicles and on some new stationary sources that already were required to have air pollution permits, such as power plants and oil refineries.
Francois Hollande and Barack Obama at the Paris COP21 Image via Shutterstock.
Read more at Yale Environment360.