Sea level rise and its potential impact to Norfolk, Virginia studied by Sandia Labs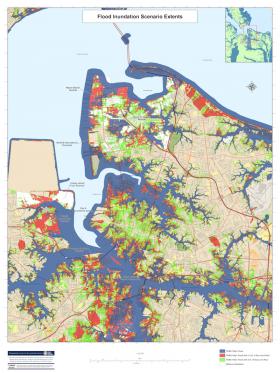 In Norfolk, Virginia, an East Coast city that's home to the world's largest naval station and important seaports, catastrophic flooding could damage more than homes and roads. A new study from Sandia National Laboratories assesses how much the city, its region and the nation would suffer in damages to national assets and lost economic activity if it does nothing to address rising sea levels.
Sandia National Laboratories included maps in its report to show varying levels of potential flooding based on different scenarios. (Image courtesy of Sandia National Laboratories)
In partnership with the City of Norfolk's Resilience Office and 100 Resilient Cities(100RC), pioneered by The Rockefeller Foundation, Sandia analyzed the risk to important assets, quantified their value and helped Norfolk prioritize the most effective ways to stay resilient in a natural or manmade disaster.
Sandia created an Urban Resilience Analysis Process to help reframe the conversation in Norfolk regarding flooding and demonstrate how the long-term benefits of mitigation outweigh the short-term costs associated with it, systems scientist Robert Jeffers said. The city and region are now taking new approaches to handle the resilience challenges posed by rising tides and water management.
The process, now available to other cities, is a holistic framework. It includes key elements of Sandia's critical infrastructure modeling and simulation tools, risk consequence assessment and systems analysis expertise to show cities the most effective investments they can make to become more resilient, Jeffers said. The report also shows individual cities how their resiliency affects other cities in their region, the nation and the world, he added.
Read more at Sandia Laboratories