Over One Million Virally Infected Farmed Salmon Slaughtered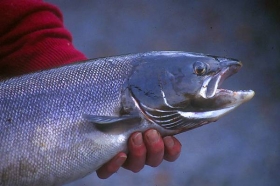 Ian Britton
SANTIAGO, Chile - It appears that the outbreak of the highly contagious viral infection in farmed salmon in Chile is not an isolated or minor issue. A report by the World Organization for Animal Health announced the slaughter of one million farmed salmon. Experts say slaughter is the only recognized means of containing the virus. A report from Sernapesca, the Chilean government fisheries agency, confirmed that farmed salmon from Aguas Claras have also tested positive for a viral infection call ISA. Marine Harvest, the world's largest producer of farmed salmon, confirmed the infestation on a farm.
The reports raise fears that the infection could spread. Officials appear baffled by the source of the outbreak, but have implemented a contingency plan to help control the disease. Despite an emergency harvest and slaughter, disinfection procedures and a 5 km radius quarantine zone, sea lice infestation may soon make matters worse. According to a Sernapesca officer, sea lice, acting as a vector of the disease, could help spread ISA to both farmed and wild fish. Since sea lice travel with a total disregard for government quarantine areas, the ISA problem has the potential to spread within the highly concentrated salmon farming region of Chiloe.
"This ISA outbreak highlights the flaws of open-net cage salmon farming. Closed containment technology would not only provide a much easier way to control ISA outbreaks, it would also stop sea lice infestations from destroying millions of fish. With fewer mortalities, closed containment would pay for itself."
Background
-- Marine Harvest and Aguas Claras salmon farms have both tested positive
for ISA. Eight other farmed salmon companies have established
quarantine zones for their fish.
-- According to the OIE alert (based on official information submitted by
the Chilean government): 1,933,000 fish can be affected by the ISA
outbreak; 598,384 cases of the disease have already been reported;
220,000 fish have died; and 1,064,606 fish have already been
slaughtered.
The Pure Salmon Campaign (http://www.puresalmon.org/) is a global project of the National Environmental Trust. It has partners in the United States, Canada, Europe, Australia and Chile all working to improve the way salmon is produced.
Web site: http://www.puresalmon.org/