No More Culling, UK Farm Animal Group Tells Government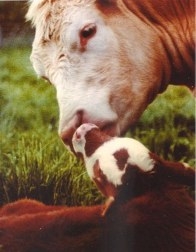 GODALMING, England -- No more culling, start vaccinating. That's the message from respected the British farm animal group called Compassion in World Farming. Chief Executive Philip Lymbery will be meeting with UK officials this afternoon to urge them to start vaccinating immediately if this third suspected case outside of the surveillance zone is confirmed.
Taking part in a stakeholders telephone conference yesterday afternoon (Thursday) Compassion in World Farming had it confirmed from Defra that the necessary steps to enable vaccination have been put in place and Government is ready to vaccinate as soon as they make the decision.
"We have lost quite enough animals now, Defra must vaccinate immediately to stop this disease causing any more unnecessary suffering to farm animals and undue disruption to the farming community," says Philip Lymbery Chief Executive of Compassion in World Farming.
Trade or vaccinate
Opponents of vaccination fear a EU export trade barrier which would be extended from three months to six months, Compassion in World Farming believes that in reality it is better for the animals and farming community to implement a 'vaccinate to live policy' without further delay.
"We must not allow EU trade to come before animal welfare. We should not forget that we are dealing with hundreds and thousands of sentient beings, animals that feel pain and can suffer," concludes Mr Lymbery.
Compassion in World Farming is also concerned that Defra has not made it clear whether their vaccination strategy would be 'vaccinate to live', allowing animals live out their normal economic lives and their meat is then eaten; or 'vaccinate to die' whereby animals are vaccinated to reduce the spread of infection and later killed.
West Sussex farmer Grant Roffey of Lee House Organic Farm is close to the outbreak and faces an anxious wait.
"We're very close to the surveillance zone here and we're all feeling very nervous and fairly powerless. The prospect of mass culling is not something you really want to think about. Vaccination seems to be the only way forward. If there is any alternative to mass slaughter, I can't see what the problem is."
Grant Roffey's interview with Compassion in World Farming at
www.ciwf.org , also available on You Tube -
- Photos and broadcast quality footage available from Compassion in World Farming
Source: Compassion in World Farming Ltd
For further information or interviews contact Annabel Davis, Compassion in World Farming +44-(0)1483-521973, Annabel@ciwf.org.uk or out of hours +44-(0)7771-926005