Watchdog Group Says USDA Considering Crack Down On "Organic" Factory-Farms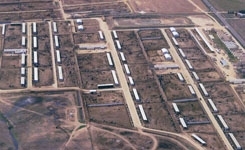 CORNUCOPIA, Wis. - According to the Cornucopia Institute, an organic farm watchdog and policy group, the USDA is considering revoking the organic certification of the nation's largest industrial dairy operator, Aurora Organic Dairy, headquartered in Boulder, Colorado. Aurora markets milk under private-labels of organic milk for Wal-Mart, Costco, Target, Safeway, Trader Joe's, Wild Oats, and other grocery chains.
Aurora operates several large scale dairy farms that milk thousands of cows. The dairys are located in semi-arid areas of Colorado and Texas. The company has been the subject of a series of formal legal complaints filed with the USDA by The Cornucopia Institute. The complaints from the Wisconsin-based farm policy group filed in 2005 and 2006, called for a USDA investigation into allegations of numerous organic livestock management improprieties.
"After personally inspecting some of Aurora's dairies in Texas and Colorado, we found 98% of their cattle in feedlots instead of grazing on pasture as the law requires," stated Mark Kastel, Cornucopia's senior farm policy analyst. Cornucopia also found that Aurora was procuring cattle from a non-certified organic source in apparent violation of the law. Kastel states, "Our sources tell us that USDA's investigators found many other violations during their own probe of Aurora."
But Kastel believes that the USDA is under intense pressure to scuttle the Aurora decertification order. "We understand that powerful political influence is being brought to bear on the USDA in an effort to delay or water down the penalties against Aurora," noted Kastel. He did not say from whom or where the pressure was coming.
Cornucopia learned of the impending enforcement action, and potential for its delay, from officials in Colorado, a political appointee at the USDA and a highly placed industry executive. "We hope that the USDA will issue tough sanctions, if warranted," Kastel said. "And we want the agency to know that the organic community is closely monitoring this case."
Earlier this spring the 10,000-cow Vander Eyk factory dairy in Pixley, California lost its organic certification after an investigation revealed numerous violations of federal organic rules. The operation had been publicly spotlighted by The Cornucopia Institute for organic irregularities.
"The good news is that Cornucopia's survey of organic dairy brands gave 90% of namebrand products very high ratings for environmental and animal practices used in milk for the dairy products," Kastel said.
For more details, visit http://www.cornucopia.org/.