Toy Recall Puts Attention On Lead Poisoning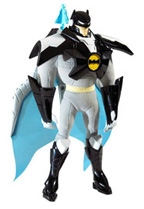 WASHINGTON (Reuters) - Lead exposure in Americans has fallen since the 1970s to all-time low levels, experts said on Tuesday, even as big recalls of imported toys made with lead paint have put a renewed focus on lead poisoning in children.
The U.S. Centers for Disease Control and Prevention said about 310,000 U.S. children ages 1 to 5 have high levels of the toxin in their blood. It said the major source of lead exposure among children is lead-based paint and lead-contaminated dust in deteriorating buildings, not ingesting paint from toys.
Giant U.S. toy company Mattel Inc. announced its second major recall in a month of Chinese-made toys containing lead paint, and also recalled millions of toys made with small, powerful magnets that pose a threat if swallowed by children.
CDC officials urged parents worried that their children may have ingested lead paint on toys to get them tested for lead levels in their blood.
"There is no acceptable level of lead exposure for a child," CDC spokeswoman Bernadette Burden said on Tuesday.
"If the parent is concerned, we encourage them to have their child screened for lead exposure."
Lead is more dangerous to children than adults because it can harm the developing brain, causing reduced IQ, learning disabilities and behavioral problems, among other things.
A single large dose can cause a medical emergency, but experts said it is more common for lead poisoning to build up gradually over time amid repeated exposure to tiny amounts.
Dr. Michael Shannon, a Children's Hospital Boston and Harvard Medical School pediatrician and toxicologist, said the risk to children playing with these toys is low.
BLOOD LEAD LEVELS AT ALL-TIME LOW
"A child really has to be able to bite off, or pick off and eat, pieces of paint to be significantly exposed," he added.
Joseph Graziano, an expert on lead poisoning at Columbia University's Mailman School of Public Health in New York, said it seems "probable that there will be some children who likely will have gotten some exposure (from the toys)."
He said blood lead levels in the U.S. population are at an all-time low. About 30 years ago, the U.S. government took steps to remove lead from paint, gasoline and other sources.
"The lead poisoning problem in the United States right now is very small in comparison to even 10 years ago, and certainly 20 and 30 years ago. Blood lead concentrations over the past 35 years have just come down and down and down," Graziano said.
"At the same time, lead in toys is a problem. I guess the real question is to what extent that lead has found its way into the blood and tissues of children," Graziano added.
Experts said it could take some time before any problem is apparent because of the gradual nature of lead poisoning.
"Frankly, I think the biggest story is the clear failure of federal agencies to protect us," Shannon said.
"I'd call it a public health disaster. It's frustrating. You would think that after so many recalls ... that federal agencies who have this as part of their charge would have done something effective. I have not seen that happen."
Dr. Jacqueline Moline, a lead poisoning expert at Mount Sinai School of Medicine in New York, said signs of lead poisoning may include irritability, low appetite and lethargy.
"Parents should make sure that they discuss with their pediatrician whether their child should be tested for lead and re-evaluate what kind of toys they have in their homes. The problem is that we don't know the provenance of their toys," Moline said.
(Additional reporting by Julie Steenhuysen in Chicago)