Brazil Gives Preliminary OK To Monsanto's GMO Corn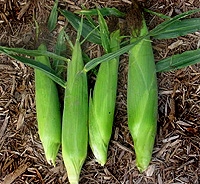 ST. LOUIS - Brazil is one step closer to approving Monsantos controversial GMO corn for future use. Corn is the third most planted crop in the world and Brazil ranks third in the world based on harvested area. Critics and scientists worldwide emphasize that, while not required by law, genetically modified crops have never been tested for their impact on the environment or human health.
The regulatory process in Brazil is a multi-step process, and other steps are still required before the genetically altered corn can be planted.
The approval may be followed by a review from the National Biosafety Council (CNBS) to examine social and economic factors. If the GMO Corn receives a favorable review by CNBS, and approvals of specific hybrid varieties, farmers will be allowed to plant the genetically altered corn seeds.
Monsanto's GMO corn express a naturally occurring protein called Bacillus thuringiensis, or Bt, that helps the corn plant protect itself from feeding damage caused by harmful insects, including corn borer. Monsanto argues that
the GMO corn protects from insect damage, reduces pesticide use and increases yields.