Hurricane Dean batters Jamaica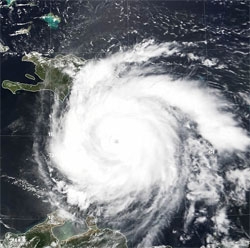 KINGSTON (Reuters) - A strengthening Hurricane Dean took aim at Mexico's Yucatan on Monday after battering Jamaica's southern coast, flooding its capital and littering streets with broken trees and roofs during a Caribbean rampage that has killed at least nine people.
Dean was an "extremely dangerous" Category 4 hurricane, the second-highest on the five-step Saffir-Simpson scale, and the U.S. National Hurricane Center said it could strengthen to a potentially catastrophic Category 5.
Carrying sustained winds of 150 miles per hour (240 km per hour), the storm was passing more than 100 miles to the south of the tiny Cayman Islands, a British territory in the western Caribbean, en route to an expected strike on the Yucatan Peninsula and Belize early Tuesday.
The hurricane's powerful core was 440 miles east of Belize City at 8 a.m. EDT, and moving westward at about 21 mph (34 kph), the hurricane center said.
"Dean is passing by to the south of the Cayman Islands. Some of the outer rain bands are on them now," hurricane center forecaster Jamie Rhome said.
"It's far enough south that they will not get the core of the hurricane, but they will get tropical storm force winds."
The fiercest winds at Dean's center passed just south of Jamaica, but most of the mountainous island was still lashed by hurricane-force winds. Sheets of rain pelted the capital of Kingston and roads were blocked by toppled trees, power poles and smashed roofs.
Jamaican authorities said 300,000 people were displaced by the storm but no casualties had been reported yet. Mudslides were reported across the island and some main roads were blocked. Electricity remained off.
At least one man was missing after falling trees tore into his house. Police said they shot and wounded two men caught trying to break into a Kingston business during the storm.
Jamaican Prime Minister Portia Simpson Miller declared a month-long state of emergency and called a Cabinet meeting to discuss the potential impact on August 27 general elections.
Local media reported 17 fishermen and women had been stranded on the Pedro Cays, a small island chain, directly in the path of the hurricane. There was no further word on them.
HURRICANE WARNINGS
Hurricane warnings were in effect for the coast of Belize and the east coast of the Yucatan Peninsula, all the way to the popular tourist destination of Cancun.
Thousands of frightened tourists on Mexico's Caribbean coast stood in line for hours at airports to flee before Dean's expected arrival.
The latest computer tracking models forecast the hurricane would spare the U.S. Gulf Coast but cross the Yucatan to the Bay of Campeche and then hit central Mexico.
Four people were killed in Haiti, the U.N. Office for the Coordination of Humanitarian Affairs said, putting the number killed at nine since Dean roared into the Caribbean as the first hurricane of what is expected to be a busy 2007 storm season.
Risk modeling company EQECAT Inc. estimated insured losses from Dean's rampage through the Caribbean islands at $1.5 billion to $3 billion, most of it in Jamaica.
Dean was being watched closely by energy markets, which have been nervous since a series of storms in 2004 and 2005 toppled Gulf of Mexico oil rigs, flooded refineries and cut pipelines.
Mexico's Pemex oil company began evacuating 13,360 workers from its Gulf rigs.
The U.S. space shuttle Endeavour got ready to head back to Earth from the International Space Station a day early in case the storm forces NASA to evacuate its Houston center.
Category 5 hurricanes are rare but in 2005 there were four, including Katrina, reinforcing research that suggests global warming may increase the strength of tropical cyclones.
(Additional reporting by Joseph Guyler Delva in Port-au-Prince, Marc Frank in Havana, Michael Christie and Tom Brown in Miami, Carlos Barria and Carole Beckford in Kingston, Manuel Jimenez in Santo Domingo, Shurna Robbins and Alan Markoff in George Town)