US Clarifies Protections For Endangered Species Of Plants And Animals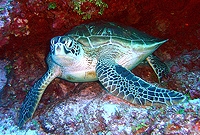 Washington - The first major update and compilation of regulations implementing the Convention on International Trade in Endangered Species of Wild Fauna and Flora -- called "CITES" for short -- since 1977, is being published by the U.S. Fish and Wildlife Service, Interior Secretary Dirk Kempthorne announced today.
CITES provides varying degrees of protection to more than 30,000 species of animals and plants, including all primates, whales, bears, seahorses, giant clams, tortoises, crocodilians, pythons, orchids, cacti, sturgeon, falcons, hawks and most parrots. International trade in CITES species is regulated by the 172 countries, including the United States, that are signatories to the 1973 treaty.
The extensive revisions and additions clarify procedures and provide an easy-to-use guide to the requirements for international trade in plants and animals regulated by CITES.
The updated regulations are an important tool for international wildlife conservation that will help make procedures more understandable for international travelers and especially for Americans who are part of the multi-billion-dollar animal and plant import and export business.
"CITES is a vital component of our efforts to protect imperiled species across the planet," said Kempthorne. "We've worked hard to make it as easy as possible for travelers and businesses to understand and meet their obligations under the law."
The final rule, published in today's Federal Register, incorporates measures adopted by CITES member nations over the past three decades and reflects consideration of more than 340 public comments received by the Service in response to the proposed rule, published in April 2006.
The regulations become effective September 24, 2007, and will be available online at http://www.fws.gov/international/
The U.S. Fish and Wildlife Service is the principal Federal agency responsible for conserving, protecting and enhancing fish, wildlife and plants and their habitats for the continuing benefit of the American people. The Service manages the 97-million-acre National Wildlife Refuge System, which encompasses 548 national wildlife refuges, thousands of small wetlands and other special management areas. It also operates 69 national fish hatcheries, 64 fishery resource offices and 81 ecological services field stations. The agency enforces federal wildlife laws, administers the Endangered Species Act, manages migratory bird populations, restores nationally significant fisheries, conserves and restores wildlife habitat such as wetlands, and helps foreign governments with their conservation efforts. It also oversees the Federal Assistance program, which distributes hundreds of millions of dollars in excise taxes on fishing and hunting equipment to state fish and wildlife agencies.