Iceland Stops Whale-hunting Quotas After Low Demand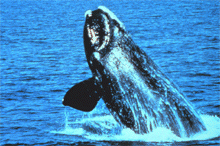 REYKJAVIK - Nearly a year after ending its ban on commercial whaling, Iceland will not issue new whale-hunting quotas until market demand increases and it gets an export license from Japan.
Iceland's fisheries minister, Einar K. Guofinnsson, told Reuters this week it made no sense to issue new quotas when the present quota period expires on August 31 if the market for whale meat was not strong enough.
"The whaling industry, like any other industry, has to obey the market. If there is no profitability there is no foundation for resuming with the killing of whales," he said.
Iceland announced last year it would allow up to 30 minke whales and 9 fin whales to be hunted, controversially ending a ban in place since 1986.
But they have killed just seven minke whales and seven fin whales because of slack demand for whale meat and products.
"I will not issue a new quota until the market conditions for whale meat improve and permission to export whale products to Japan is secured," said Guofinnsson.
"There is no reason to continue commercial whaling if there is no demand for the product."
Buyers of whale products demand thorough testing to ensure food safety. In addition, without an export agreement with Japan, a huge source of buyers is taken out of the equation.
Stefan Asmundsson, an officer at the ministry of fisheries, said negotiations for market access to Japan were ongoing.
"We are talking to the Japanese government but so far we have not reached a conclusion on how best to secure the health and quality of the products," he said. "Hopefully this will clear up soon as the uncertainty is not good for anybody."
Whalers had celebrated the decision to allow them to resume a traditional custom despite protests from some two dozen anti-whaling countries, including the United States.
They are now frustrated with the government's stance and say they should be allowed to keep hunting to develop the market.
"In my opinion the minister should not have any say on whether there is a market for our products or not," said Gunnar Bergmann Jonsson, who leads a minke whaling association. "How are we supposed to find markets if we don't have a product?"