Corporate Greening In The Apparel Industry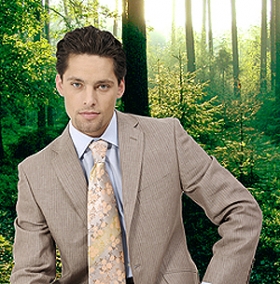 Commentary by Moshe Gadot, Director of Sustainability,
Bagir Group Ltd.
If a company is touting itself as green, it should be 100% certain that its products or services truly live in harmony with the environment. It's their responsibility to know the impact that even the smallest of factors can have on the environment.
While our EcoGIR suit collection has only been in the works for a little over a year, we understand the importance of keeping tabs and tracking everything that goes into our end products. Even the lesser ingredients, such as buttons or lining, can ultimately negate any positive contributions that the suits might've had on the environment in the first place.
For the businesses that have taken an active interest in the environment, it's important to remember that we still have a long journey ahead of us, and what makes the journey that much more satisfying are the endless possibilities that are out there.
The technology that's being researched and discovered this year is nothing compared to what will be used next year or in two years. As time continues to pass, companies will continue to fine tune. The sky truly is the limit. Bagir has already invested in excess of $1 million into EcoGIR and that number will continue to grow as times goes by.
The decision to go greener also shouldn't be one based on the fact that it's currently a trendy thing to do. Going greener should be about making a strategic decision and committing to a long journey. Companies should go green because they're not only committed to the environment, but also because they're committed to the long-term research and development that is needed to stay cutting edge.
We actually consult with green "experts," as well as an in-house innovative team, both of which help in keeping us on the right path. We're an apparel manufacturer, but yet we employ such positions as a toxic waste manager and a CO2 manager.
It's also very important that companies educate from the top all the way down. Lectures, seminars and specialized training go great lengths in making employees more knowledgeable. If employees understand exactly what their company is looking to accomplish, it also ensures that they're in the position to do the best job possible.
In my opinion, all companies will eventually have to go green if they want to maintain any level of stability because they simply won't be able to keep on polluting as they have done up until now.
The era of "business as usual" has officially ended. Reality has also changed. Companies that do not go green will cease to exist and there will eventually be sanctions against the ones that refuse to reduce their carbon footprint. Besides the sanctions, they will probably not even be able to sell their products or services because of consumer backlash.
Generally speaking, Bagir tends to lead. We've always been innovative, but now we're making our innovations green. What we are doing now will eventually be done by any company that seeks to survive.
It's not that we're tree huggers or idealists, nor is this a marketing ploy. It's just that we understand that there's no way companies can continue to operate in the future as they have done up until now. We understand that.