China Drafts Laws To Curb Pollution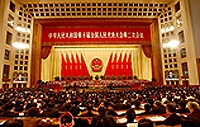 BEIJING - China began deliberating a draft law aimed at boosting energy saving and emissions reductions on Sunday, its latest effort to curb widespread resource waste and degradation.
The issue has taken on greater urgency as Beijing tries to clean up its notoriously filthy air before hosting the 2008 Olympics next August.
The draft law on a "circular economy" -- China's watchword for sustainability -- stipulates that governments at all levels should control energy use and emissions, strengthen management of resource-intensive companies and divert capital into environmentally-friendly industries.
"China has been facing serious environmental and resources problems during the economic development since the 1980s, which were mainly caused by the low resources efficiency," the official Xinhua news agency quoted lawmaker Feng Zhijun as saying.
China's average energy consumption per unit product for industries such as steel, electric power and cement was 20 percent higher than that of "the advanced international level," he said.
In its rapid development into the world's fourth-largest economy, China has become the world's top emitter of acid-rain causing sulphur dioxide. Many analysts expect it to overtake the United States this year as the biggest greenhouse gas emitter.
The government under President Hu Jintao and Premier Wen Jiabao has strengthened environmental legislation but laws and regulations often go unenforced at the local level, where officials typically prioritize economic growth over environmental protection.
Lawmakers were also deliberating a draft amendment to the Water Pollution Prevention and Control Act, intended to mete out harsher punishments to enterprises and officials who failed to implement controls, Xinhua said.
The draft stipulates that offenders will be fined 100,000 yuan ($13,000) to 1 million yuan if factories discharge into water more than a set level of pollutants.
Environmental protection officials who fail to set up a water pollution emergency response scheme, or delay reporting and hide water pollution accidents would face administrative punishment and possible criminal charges.
An official from the State Environmental Protection Administration (SEPA) said China was also trying to strengthen and broaden local governments' ability to restrict approvals for new projects that would pollute, and to standardize the national approvals, Xinhua said.
China has promised to cut emissions of major pollutants by 10 percent between 2006 and 2010, but last year failed to meet the annual goal.
© Reuters 2007. All rights reserved.