China Warns: Rising Seas Will "Engulf" Tract Of Pearl River Delta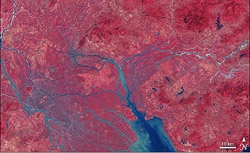 BEIJING - A huge swathe of China's booming Pearl River Delta will be "engulfed" by rising sea water by the middle of the century because of global warming, state media said on Thursday, quoting weather officials.
Some 1,153 square km (445 square miles) of coastal land would be flooded by 2050, with the bustling cities of Guangzhou, capital of Guangdong province, Zhuhai and Foshan the worst affected, the China Daily said, quoting the provincial water authority.
Hotter average global temperatures fuelled by greenhouse gases meant the sea level along the coast of Guangdong was forecast to rise by at least 30 cm (one foot) by 2050.
"Climate change will negatively affect the economic development of Guangdong, which is currently one of the biggest consumers of energy and producers of greenhouse gases," Du Raodong, an expert at the Guangdong weather centre, was quoted as saying.
The rising sea level would lead to a salt tide, posing a huge threat to drinking water supply.
"Moreover, red tides (caused by high concentrations of algae) will occur along coastal areas, affecting agricultural production," said Du.
Yu Yong, director of the Guangdong bureau, warned that global warming would bring about more drought and floods, causing huge economic losses.
"More energy-saving industrial facilities should be introduced in a bid to reduce greenhouse gas emissions," Du said.
Torrential rain has inundated large swathes of China's east, south and southwest since June while a prolonged heatwave and drought have afflicted several eastern provinces. More than 1,000 people have been killed in floods, mudslides and collapsed houses so far this year.
"The climate has been abnormal," Vice Minister of Water Resources E Jingping told a news conference this week.
© Reuters 2007. All rights reserved.