Ford 'Fumes-to-Fuel' System Turns Waste Paint Exhaust Into Clean Electric Power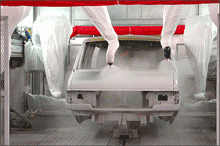 DEARBORN, Mich., "" Can paint exhaust be turned into an inexhaustible source of clean electric power? Absolutely, say Ford Motor Company and Detroit Edison, who have jointly developed a new Fumes-to-Fuel system that instead of burning paint fumes, turns them into hydrogen fuel for fuel cells.
Installed in the Paint Shop of the Ford Rouge Center, the pilot system captures the volatile organic compounds "" or VOCs "" found in paint fumes, and concentrates them into a rich mixture of hydrocarbons, which are a source of fuel. The mixture then is fed into a reformer that turns it into a hydrogen-rich gas. From there, the gas is fed into a stack of solid oxide fuel cells, where a chemical reaction between hydrogen and oxygen, creates electricity, water vapor and an insignificant amount of carbon dioxide.
"For years, we've been taking the fumes coming out of paint booths and incinerating them to protect air quality. Now we have a system that can do that even more efficiently, produce clean electricity and allow us to improve paint shop flexibility. It's almost too good to be true," said Jay Richardson, Ford Rouge Center redevelopment manager, and former Ford paint engineer.
Patented by Detroit Edison in the United States, and internationally by Ford and Edison, the new system is expected to generate a great deal of interest, in addition to electricity. The Ford Rouge Center Paint Shop pilot generates about 5,000 watts of electricity "" enough to power an average home. A larger Fumes-to-Fuel system, to be installed in 2004, will have the capacity to generate more than 100,000 watts.
"We looked at a lot of alternative energy proposals, but none of them made business sense," said Tim O'Brien, Ford Motor Company vice president, Corporate Relations. "We planned a fuel cell demonstration project to gain experience with the technology, but when Ford and DTE engineers proposed the Fumes-for-Fuel project, we jumped on it. It really demonstrates the ability to come out with a sustainable business solution that improves the environment by substantially improving emissions, improves business by reducing fuel costs for incineration and actually generates usable energy from a waste product."
"When fully developed, this system has the potential to save Ford millions of dollars by reducing the cost of incinerating paint fumes in natural gas-fired furnaces, as we do now," explains Mark Wherret, the Fumes-to-Fuel System project leader and principal environmental engineer, Ford Environmental Quality Office. "It will also cost much less to install and maintain, virtually eliminate carbon dioxide emissions, and enable us to continue using solvent-based paints which produce a better quality finish than powder or water-based paints."
Patrick Ryan, a Detroit Edison engineer, collaborated with Wherrett on development of the Fumes-to-Fuel System. Ryan is one of nine engineers employed by the utility, who work exclusively for Ford Motor Co., to help the automaker maximize energy efficiency in its operations. "The Fumes-to-Fuel System is an excellent example of how, using good engineering, industry can find environmentally friendly solutions that also are good for business," Ryan said.
"Detroit Edison has found that by working as a partner with our customers, everyone shares in the benefits of technological innovation and the efficient use of energy," said Robert J. Buckler, President and Chief Operating Officer of DTE Energy Distribution, which operates Detroit Edison. "Providing an on-site energy management team to major industrial companies helps those customers control costs and use energy more efficiently. This project demonstrates that these partnerships also can contribute to a cleaner environment for everyone."
While engineers and scientists in Ford's Environmental Quality Office and Scientific Research Laboratories, developed, tested, and successfully installed the Fumes-to-Fuel System pilot, the project is the result of a collaborative effort between several entities, including Ford, Detroit Edison, Fuel Cell Technologies, Ltd. of Kingston, Ont., Climate Technologies, and the State of Michigan (Public Service Commission), which provided partial funding for the project through its Energy Efficiency Grant Program.
Overview
* The Ford Fumes-to-Fuel system turns paint fumes into electricity.
* Ford's Fumes-to-Fuel system will cut cost and consumption of natural gas to burn VOCs and significantly reduce carbon dioxide emissions.
* The Ford Fumes-To-Fuel system cleans paint exhaust better than the current incinerator-based system, while costing much less to install and operate.
* Ford's Fumes-to-Fuel system pilot is installed at the Ford Rouge Center Paint Shop where it generates 5,000 watts of electricity "" enough to power an average home.
* The Ford Fumes-to-Fuel system also provides for the use of more solvent-based versus water-based paints, which provide a higher quality paint finish.