Tropical Storm Henriette Kills 6 In Mexico Resort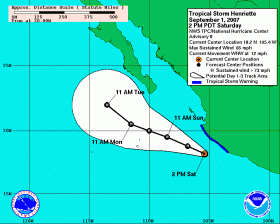 ACAPULCO, Mexico - Tropical Storm Henriette swept by Mexico's Pacific coast on Saturday, killing six people in the resort of Acapulco before moving out to sea, where it could become a hurricane.
A man and his two children were killed in a poor area of Acapulco overnight when heavy rain dislodged a boulder from a hill and sent it crashing down on their house.
Three more children died after a mudslide collapsed part of their home.
After lashing Mexico's Pacific coast with rain, Henriette was expected to move farther out to sea and could become a hurricane overnight, the U.S. National Hurricane Center said.
"There is a hint of an eye feature," the center said, referring to the storm's cloud formation.
On Saturday, the center of the storm was about 90 miles
southwest of Manzanillo, moving northwest with maximum sustained winds of 65 mph (100 kph) with higher gusts, the hurricane center said. A tropical storm becomes a hurricane when maximum sustained winds reach 74 mph (119 kph).
A tropical storm warning remained out for some parts of the coast.
Flooding and mudslides from heavy rain often wreck fragile houses built too close to rivers or unstable hills around tourist areas like Acapulco and Los Cabos, in Baja California.
At least 10 people were killed when rains trailing Hurricane Dean pounded Mexico last week.
Henriette is expected to pass more than 100 miles off the southern coast of the Baja California peninsula on Monday and Tuesday, according to the Miami-based center.
(Additional reporting by Noel Randewich)
© Reuters 2007. All rights reserved.