Thousands Flee Hurricane Felix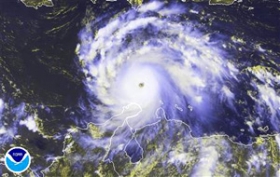 TEGUCIGALPA - Tens of thousands of people, including Miskito Indians and foreign tourists, began fleeing low-lying coastal areas on Central America's Caribbean coast on Monday to escape the approaching Hurricane Felix.
The highly dangerous Category 4 storm charged toward Nicaragua and Honduras with top sustained winds of 145 mph, provoking fears of a repeat of Hurricane Mitch, which killed some 10,000 people in Central America in 1998.
"We are faced with a very serious threat to lives and property. The most important thing is that people pay heed to the call for evacuation so that we don't have to count bodies later," said Marco Burgos, head of Honduras' civil protection agency.
Hundreds of tourists flew to the Honduran mainland from beach and diving resorts on the Bay Islands.
Emergency services sailed Miskito Indians out of vulnerable coastal areas in Honduras, and Nicaragua said it would evacuate thousands more on its side of the swampy border area, dotted with lagoons and crocodile-infested rivers.
Felix, the second hurricane of the 2007 Atlantic season, was for hours a top-ranked Category 5 storm like last month's Hurricane Dean, which killed 27 people in the Caribbean and Mexico.
Category 5 hurricanes can cause huge damage and are considered rare. But there were four of them in the 2005 Atlantic season, including Katrina, and more of the potent storms this year could boost claims that global warming may produce stronger tropical cyclones.
Also on Monday, Tropical Storm Henriette headed across the eastern Pacific toward Mexico's Baja California peninsula at near hurricane strength after killing six people in the resort city of Acapulco during the weekend.
London coffee futures ended higher on Monday, felled by speculative buying on concern Felix might damage arabica coffee growing areas in Central America.
BAD MEMORIES
Memories of Hurricane Mitch in 1998 still strike fear into Honduras, one of the poor Central American countries worst hit. Some 10,000 people died in the region in mudslides and flooding.
"Besides asking God to prevent a catastrophe, we are buying water, food and medicine and boarding up windows," said Silvia Sierra, a resident of Roatan island off the Honduran coast.
In 1974, Hurricane Fifi killed up to 8,000 people in Honduras after grazing its Caribbean coast and dumping up to 24 inches of rain on the northern mountains.
Felix was expected to smack into the northern border between Honduras and Nicaragua on Tuesday morning and then hit southern Belize and move through the Peten jungle region of Guatemala and into southern Mexico.
Whether Felix would be able to re-emerge over the Bay of Campeche, where Mexico has its major offshore oil fields, and strengthen again in the Gulf of Mexico was unclear.
Felix was about 305 miles east of Cabo Gracias a Dios on the border between Nicaragua and Honduras and speeding westward, the U.S. National Hurricane Center said.
Its rains might be as severe a threat as its ferocious winds. Felix was expected to drop 5 to 8 inches (12.7 to 20.3 cm) of rain across northern Honduras and northeastern Nicaragua. In some areas, 12 inches of rain could fall, possibly producing dangerous flash floods and mudslides.
The U.S. energy industry, skittish about storms since hurricanes in 2004 and 2005 toppled rigs, cut pipelines and flooded refineries, was monitoring Felix carefully.
But companies said they had yet to evacuate platforms in the Gulf of Mexico, where a third of U.S. domestic crude is produced and 15 percent of its natural gas.
(Additional reporting by Michael Christie in Miami)
© Reuters 2007. All rights reserved.